Short Film: 'The Landing' – The Twist Will Blow You Away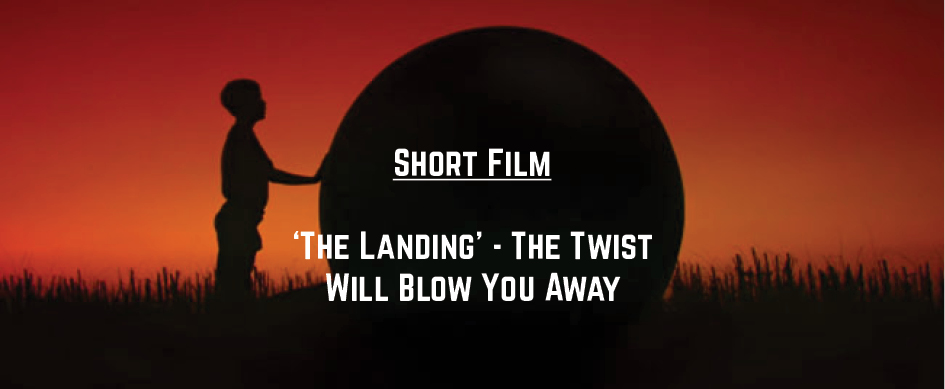 This short film from Perception Pictures and director Josh Tanner is a beautiful, well-made little science fiction short film about a crashed space ship. There's a twist at the end that will rock you. The acting was great, the production value was quite high, and over all the whole experience was quite enjoyable. It runs a little longer than a lot of short films you'll see, but it's a highly engrossing experience and you won't even notice the 17 minutes fly by.
Really can't recommend this short film enough.
THE LANDING – Short Film from Perception Pictures on Vimeo.
**ENGLISH, FRENCH, SPANISH, ITALIAN AND ARABIC SUBTITLES AVAILABLE**
A man returns to the Midwestern farm of his childhood on a desperate mission to unearth the horrifying truth of what landed there in the summer of 1960. View trailer: https://vimeo.com/55338337
imdb.com/title/tt2831474 | www.thelandingfilm.com/ | facebook.com/thelandingQPIXFILM
See our VFX featurette: https://vimeo.com/113455347
WINNER – Best Short Film – 46th Sitges International Fantastic Film Festival (2015 Academy Awards® Qualifying Win)
WINNER – Best Foreign Film – 18th LA Shorts Fest (2015 Academy Awards® Qualifying Win)
WINNER – Best International Short – 38th Cleveland International Film Festival
WINNER – Youth Jury Award, Best Short – Rhode Island International Film Festival, 2014
WINNER – Best Short, Screamfest® Horror Film Festival, 2014
WINNER – Jury Award, Narrative Short – Beverly Hills Film Festival, 2014
WINNER – Octopus d'Or, Best International Short, Strasbourg International Fantastic Festival, 2014
WINNER – Best Real Image Short Film, FANCINE, XXIV Fantastic Film Festival of Málaga
WINNER – Best International Live-Action Short – 10th Fantaspoa International Fantastic Film Festival
WINNER – Best Of Fest & Best Sci-Fi Short – FilmQuest Festival 2014
WINNER – Best Narrative Short (50 minutes or less) 2013 IPAF ATOM Awards
WINNER – Best Director, Rhode Island International Horror Film Festival, 2014
WINNER – Golden Tripod for Best Cinematography in Short Film, 2014 National ACS Awards
NOMINATED – Best Direction in Short Film, 2014 Australian Directors Guild Awards
NOMINATED – Best Editing in a Short Film, 2014 Australian Screen Editors Awards
NOMINATED – Best Production Design, Original Score, Sound and VFX, 2014 St Kilda Film Festival
OFFICIAL SELECTION HIGHLIGHTS
Warsaw Film Festival, 2013
20th Austin Film Festival, 2013
Foyle Film Festival, 2013
Brisbane International Film Festival, 2013
Flickerfest International Short Film Festival, 2014
Byron Bay International Film Festival, 2014
Omaha Film Festival, 2014
Sarasota Film Festival, 2014
Imagine: Amsterdam International Fantastic Film Festival, 2014
Arizona International Film Festival, 2014
SCI-FI LONDON Film Festival, 2014
Newport Beach Film Festival, 2014
St Kilda Film Festival, 2014
Huesca International Film Festival, 2014
Festrioa International Film Festival, 2014
Revelation Perth International Film Festival, 2014
Fantasia Film Festival, 2014
Rhode Island International Film Festival, 2014
Hollyshorts Film Festival, 2014
Cambridge Film Festival 2014
MOTELx – Lisbon International Horror Film Festival, 2014
Shnit International Shortfilmfestival, 2014
KEY CAST
Father | Henry Nixon
Edward | David Roberts
Young Edward | Tom Usher
KEY CREW
Director | Josh Tanner
Producer | Jade van der Lei
Written by | Josh Tanner & Jade van der Lei
Executive Producers | Mat Petrenko, Rob Matheison & Murray Berghan
Associate Producers | Alana Jessop & Jacob Livermore
Production Design | Charlie Shelley & Christopher Cox
Cinematographer | Jason Hargreaves ACS
Composer | Guy Gross
Sound Designers | Tony Vaccher & John Dennison
Editor | Derryn Watts
Visual Effects Supervisor | Richard Waterhouse
© PERCEPTION PICTURES PTY LTD 2013
CONTACT:
JOSH TANNER (director/writer)
tannerofjosh (at) gmail.com
JADE VAN DER LEI (producer/writer)
jade (at) perceptionpictures.com.au